Nancy's Story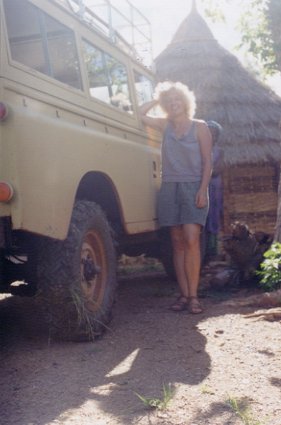 The girl herself – Nancy Gregory
(with her Land Rover at the Fulani)
Getting Here – Dakar to Sadiola
We met nice people all the way. The American Embassy eventually liberated the Land Rover for me after 7 days, and my mobility is due to a great Senegalese man by the name of Saiga. Dakar was much different than I expected, not like Abidjan at all, but more like Ouaga, in Burkina Faso, by the sea. Many many beggars though, and street crime. Ante was really out of his element, he really doesn't have a lot of street smarts. We did the requisite visit to the Isle d'Goree (former slave island), and probably I wasn't into being a tourist, because it seemed like just a nice island to me, rather than the heart of slavery.
We fell in love with the Gambia, drove from Dakar, across the river and went to Georgetown, a village filled with birds beside the river, and we were completely lulled, and want to return. We stayed at a far out (physically) lodge called Bird Safari. That's where my connection with Africa began again, laying on top of the boat at night, watching the starlight reflect in the great Gambia river, watching a Hippo, watching the fireflies, and in one hour at least 25 species of birds!
| | |
| --- | --- |
| | Ante, Anne, Bepe, greasing spark plugs. Nikolo Koba National Park – Senegal |
On some hellacious out of nowhere road to cross back into Senegal, and head for Tambacounda (last stop before Mali), we met a new friend Bepe, who showed us the Nikola-Kobo National Park (full of baboons, monkeys, yet more birds, wild pigs and antelope), and then more important, showed us how to convert the Land Rover into a DUCK . . Rainy season with a vengeance !
| | |
| --- | --- |
| | Nikolo Koba National Park – Senegal |
We learned how to grease battery cables, sparkplug leads, and any electrical connection. We spent one night with the Peul (Fulani) in a settled village, right on the border of Guinea. It was paradise, corn and Millet, much taller than 6 feet, forests, plants everywhere. Also a village with a generator, a grinding mill, and an organised water system, and schools. It was so surprising, being used to the nomadic and poor, often hungry Fulani, who hang out in Dogon country.
| | |
| --- | --- |
| | Fulani village on the Senegal / Guinea border |
Ante was really surprised too ! We were in heaven then, staying with a family, and being shown the village by the children. We had the name Enshallah   painted on the door of the Land Rover in Tambacounda, and she was really in her element. She is the best truck, and a woman's Land Rover, she always stops for women and her seats are covered now with bright African fabrics from different villages. The children love her, as she is like a big play house.
Eventually, alas it was time to head to keyes. We loaded the sand ladders, extra fuel, food, you name it, not knowing what to expect. What we had was a long days drive on a partially paved road, nasty customs people in Senegal, and rats at customs in Keyes. Ugh…Keyes is a jumping off place if you have ever seen one. Bridges collapsed under the strain outside of town, new bridge tax in town (for foreigners !), it too collapsed in construction. Ante was scandalised, he says the government has been saying that Keyes is the "premier region of Mali", but in fact it makes Bandiagara seem like paradise.It was truly knee deep in mud, I never took the Land Rover out of 2nd gear, no infrastructure, no redeeming value, except for the nice people.
To get a vehicle to Bamako, it is necessary to take it by train (a 2 day trip), and then when we arrived the rains meant that there was nothing running at all. After the rains,  two days by Land Rover.
| | |
| --- | --- |
| | Yatela area – Sadiola Mali |
Now that I am here in Sadiola, I feel SO fortunate to be here, to have my Land Rover, and to be living my life. My Land Rover is the absolute best . . in spite of the fact that she LOOKS stuck in the photo's. I am truly learning to drive her, and get better every time, but also the rainy season is drawing to a close, and those rivers are much less formidable.
My Land Rover is my security, when I felt insecure last summer I just curled up in her front seat and slept through the rain and hunger and tiredness. Once I took refuge in her to escape the mosquitoes  at a hotel in the Gambia. She represents myself and my life here, and how lucky I am, and how special I am. We fill her with women, and their produce, rice, millet, goats and cows milk in gourds, laundry, wood, and laughter !
Women smile all around us just to see a woman driving her – she is like the women's' liberation mobile !
Thank you once again for taking such time with her !
September 2000 update:
She was her usual self yesterday, hauling a truck load of Malian women, and then today she was filled with children for a visit to the rice field to collect tadpoles and rice field habitat. She was happy and the children were delighted to have their old friend back. They believe that she is alive.
January 2002 update:
The American International School (where Nancy teaches) now has Internet and E mail access, and we have just received this wonerful poem, written by  Florence Berten, one of nancy's students.
Oh En'Sha'allah oh how fun you are!
Bring me for a trip
oh please
oh please
We will have fun together.
We will have our life together.
We will sing songs together.
We will have fun together.
Will you bring me on a trip?
Oh Please!
Oh Please!
Florence Berten
1.29.02
Sadiola, Mali
American International School
Below are some recent pictures of  En'Sha'allah helping with the harvest. "Click" on the pictures to see the full size image.
| | |
| --- | --- |
| | |
| Harvesting the corn | Transporting the corn to Medine village, Sadiola. |
BACK to Friends of the Land Rover Centre
Gallery